Reduced Effort Required for PC Management

Instant, friendly, automatic, and fun.
Concept
By keeping multiple physical PCs in a similar state through network booting technology, we aim to not only improve the quality of PC systems but also to reduce total costs of ownership. Network booting systems include the following features:
Restoring to the initial state when the power is turned off.
Performing batch updates of the initial state.
Updating templates of a disk image every day automatically to improve security levels.
These features not only work to stabilize the system but also to reduce both installation and operation costs significantly.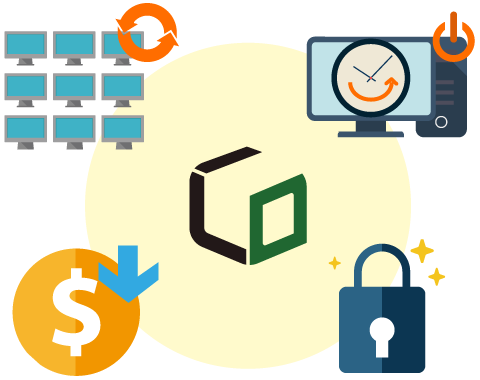 Marketing
In Japan, a great many Windows-based shared terminals are used at universities and other locations.
Solutions from CO-CONV have been adopted in various situations within this market, from small-scale systems with a few devices to large-scale systems with thousands of devices.
Products
Many of the solutions proposed by CO-CONV are stable systems based on Citrix Provisioning Services (PVS).
At CO-CONV, we develop proprietary technology to improve the reliability, manageability, speed, and flexibility of network booting systems that use Citrix products.
Network booting-related products
CO-Store helps to eliminate routine and simple, repetitive work, stressful operations, and wasted wait times that arise in the operation and management of network booting systems. CO-Store provides advanced manageability and flexible system configurations not hindered by the limitations of PVS.
Download PDF
Through a proprietary system that includes a virtual disk cache on the terminal's local disk, ReadCache eliminates boot storms on servers when all terminals are in operation as well as traffic congestion—common problems with network booting systems.
Download PDF
When replacing physical PCs in a network booting environment, required work can be performed in the single step of entering the host name. This minimizes terminal downtime with physical failures, improves terminal system operation rates, and reduces system operation and maintenance costs.
Other products
CO-Spray allows disk images to be deployed to multiple terminals. Offering various delivery methods such as multi-hop deployment including delivery between terminals and unicast/broadcast/multicast combination deployment, CO-Spray optimizes deployment operations in various network environments including wireless environments and narrowband networks.
CPExtender is middleware designed to extend Windows logon authentication screens. This product helps enable inexpensive and prompt development of various logon authentications including LDAP linkage and IC card authentication.
Company Profile
Company Name
CO-CONV,Corp.
Address
44 Tanaka-monzen, Sakyo, Kyoto 606-8225, Japan
E-mail
Established
July 11, 2003
CEO / Founder
Shin Maruyama, Ph.D
Major clients
NEC Corporation , Fujitsu Limited,
NIPPON TELEGRAPH AND TELEPHONE EAST CORPORATION